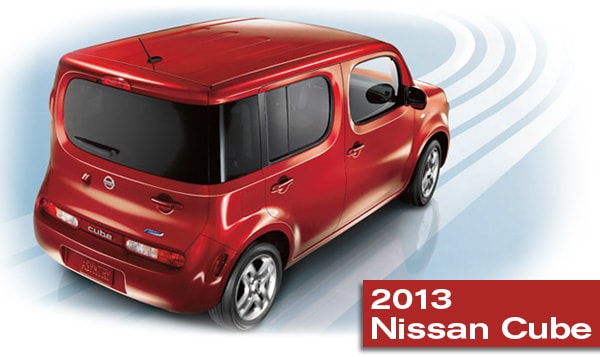 In cube® a way to get there becomes a way to be: open-minded and in the moment, with easy-going practicality. Curvy replaces straight, and asymmetry changes your outlook. Of course, cube serves up sensible with its one-of-a-kind spirit. There's plenty of loungey room inside a car that doesn't take up much space. Creature comforts and high technology are on board too, and it's all surprisingly easy on the wallet. At Nissan of Athens in Athens, GA we are proud to provide you with an incredible selection of new Nissan inventory. Visit us at the dealership or contact us for more information. You may also schedule a test drive or discover your Nissan finance options conveniently online.

---
---
MEET THE SHAPE OF THINGS TO COME
It's time to see things in a new light. Where artful inspiration and useful design meld together. Where surprises lay around every corner, like a unique look inspired by man's best friend ? wearing sunglasses no less. Woof!
MAKE SOME WAVES.
Ripples on the headliner, over the audio speakers ? even at the bottom of the cup holders. It's an unusual interior with inviting curves. So take a look around, there's lots of artful inspiration to be found.
---
58.1

CU FT
The ultimate in convenience, 60/40 split fold-down rear seat backs open up over 58 cubic feet of practicality.


Cube® is loaded with inspiration. It's loaded with personalization. Now it's time to load it up with everything else. The unique back door is hinged at the side like a fridge, making it easy to handle in any situation. In a tight spot? Grabbing a small item? Open it just a little. Got all the room in the world? Swing it wide. With a firm hold on versatility, cube makes life that much easier.
The available accessory utility pouch hangs from one of the ripple hooks and stashes your sunglasses, iPod ® ? whatever you can't live without ? close at hand.
Strap your stuff up. The available accessory front door bungees create clever spots to hold and display small things that would other wise float around the cabint.
One of the many Genuine Nissan Accessories available for cube ® a rear cargo organizer levels the playing field, offering a flat surface flush with the folded rear seatbacks and two storage bins, including one that's lockable.
---
TECHNOCUBICALLY ADVANCED.
5-inch touch-screen display opens up a whole new world of available features. Chart your course on the available Nissan Navigation System, with real-time traffic advisories via NavTraffic keeping you on the move. 1, 2 See your incoming Bluetooth® calls. 3 And with the available USB port, connect your iPod ® or USB flash drive and scroll your playlists. 4, 5 You can even get a better look at what's right behind you, thanks to the available RearView Monitor. 6 One screen. So many possibilities.
THE FEELING OF MAKING FRIENDS WITH THE PLANET
The 2013 Cube® wears the PUREDRIVE TM badge, meaning it meets or exceeds the industry-average US Federal CAFE standards for model-year 2016. The PUREDRIVE TM initiative is just one aspect of Nissan's commitment to developing greener, more environmentally friendly transportation for everyone ? and that's something we can all smile about
Small in Size, Big on Smarts. Turn your road trip into an extended adventure. Cube® gets up to 27 MPG just tooling around the city and a whopping 31 MPG on the highway. It's got plenty of get-up-and-go too, thanks to a quick-responding 1.8-liter 4-cylinder engine delivering 122 hp and 127 lb-ft of torque. Fun and fashionable can be practical, too.
Light on Maintenance. Cube® is ready for the long haul right out of the box. It wears a maintenance-free metal timing chain that doesn't need to be replaced like a rubber timing belt. It also comes with iridium-tipped spark plugs that last 105,000 miles.
Unconventionally driven. The available intelligent CVT (Continuously Variable Transmission) is virtually gearless, making every trip seem smooth and effortless. It's always operating in the sweet spot, so when you accelerate CVT maintains engine rpm, letting you ride a seamless wave of power. But if shifting is your thing, choose the 6-speed manual for more control
See and bee seen. Talk about minimal effort, maximum ease. With a huge window that wraps around the right rear corner, cube gives the driver excellent visibility by design. It's agile too, with a super-snug turning radius that makes tight maneuvers a cinch. Then an available RearView Monitor helps you see objects directly behind you. Fun to drive, easy to love ? that's cube.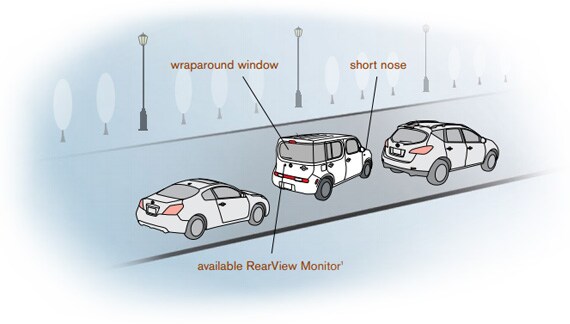 ---
SIX STANDARD AIR BAGS.
In frontal crashes, the Nissan Advanced Air Bag System has the smarts to know which dual-stage supplemental front air bags to deploy and how quickly they should inflate. A variety of sensors determines the severity of the collision, front-row seat belt usage and whether there's a front-seat passenger, helping tailor the response to the situation as much as possible. Front-seat-mounted side-impact supplemental air bags are also built into the seats, so they move with you as you adjust your seat. And standard roof-mounted curtain side-impact supplemental air bags provide additional head protection to front and rear outboard seat occupants.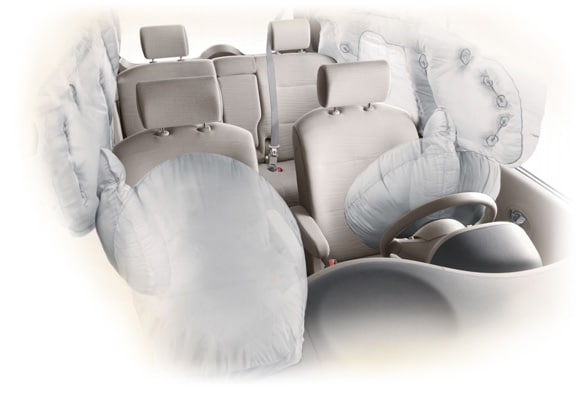 Standard front-seat Active Head Restraints. Cube® also features the protection of front-seat Active Head Restraints. During a rear-end impact, they move up and forward toward your head to meet it part of the way, helping close the gap and helping reduce the chances of getting a whiplash-type injury.

Standard Vehicle Dynamic Control (VDC). Life may throw you some curves, and cube helps you handle them more confidently. The standard VDC constantly monitors your steering and braking inputs and compares them to your actual path. If cube begins to oversteer (fishtail) or understeer (plow forward), VDC senses this and can reduce engine power and/or apply appropriate brake pressure to specific wheels, helping keep you on your steered path.

Standard Traction Control System (TCS). Sometimes you need a little extra help getting a grip. So when TCS senses a front wheel starting to slip, it reduces engine power and/or applies the front brakes to help maintain traction.

Three standard advanced braking technologies. Nobody can say what might suddenly pop up in the road, but cube can help you avoid it with its standard Anti-lock Braking System (ABS). Pumping the brakes faster than humanly possible during panic braking helps prevent the wheels from locking, so you can maintain steering control. Brake Assist helps even more by automatically applying maximum brake pressure when it senses emergency braking. And Electronic Brake force Distribution (EBD) sends extra force to the rear brakes when the back seat is full or you've just filled up the gas tank.

Brake Override Technology. Like every Nissan since 2005, cube comes standard with Brake Override Technology. It's designed to help slow down your vehicle and bring it to a safe stop in an emergency by overriding accelerator input and reducing engine power when the accelerator and brake pedals are applied simultaneously.

Zone Body construction. A strong body structure with crossmembers and rigid reinforcements, front and rear crumple zones, and high-strength steel side-door guard beams all help protect you and your passengers in the event of an impact.

Nissan safety engineers have dedicated thousands of hours to evaluating hundreds of child restraints in Nissan vehicles. The result: An industry first, The Snug Kids Child Safety Seat Fit Guide. This guide lists child seats that fit the rear seats of Nissan vehicles, as well as offers invaluable tips on correct installation.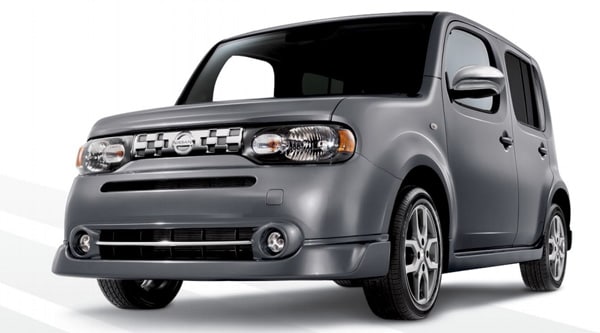 Click here to learn more about the 2012 Nissan Cube